Williams Business Alliance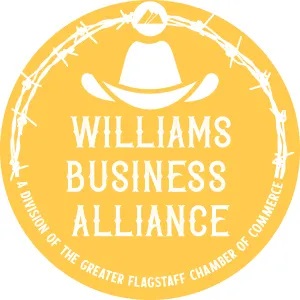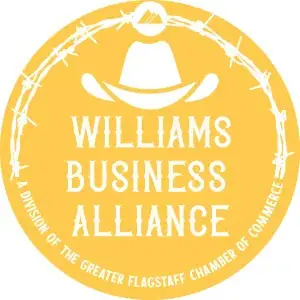 The Williams Business Alliance (WBA) is a division of the Greater Flagstaff Chamber of Commerce established after the closing of the Williams Chamber of Commerce in August 2016. Supported by APS, the WBA emerged as a platform to continue to help promote local business and advance a strong business climate through network development events, local business promotion, professional development opportunities, and advocacy.
As part of the Greater Flagstaff Chamber's mission to be a catalyst for economic prosperity in the Northern Arizona Region and a desire to further connect the Williams and Flagstaff communities, this partnership was a natural progression of services already provided to many existing Williams-based members
The Williams Business Alliance looks forward to continuing to serve and promote the Williams business community and growing the organization for years to come.
For more information on the WBA or to join, please contact:
Membership Director, CT McMurry.
(928)637-8397
ctmcmurry@flagstaffchamber.com
Williams Community Profile
Source: Arizona Commerce Authority
Williams is widely known as the gateway to the Grand Canyon but has a charm that's all its own. A town with a wild west feel, Williams is a popular stop for Route 66 Mother Road enthusiasts. Besides hiking, fishing and as a hub for Grand Canyon visitors, attractions include the Grand Canyon Railway, Bearizona, and local breweries.
Source: Arizona Commerce Authority
Founded: 1881
Incorporated: 1901
Population: 3,256
Civilian Labor Force: 1,465