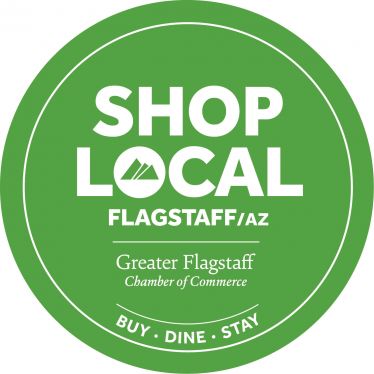 Clothing, jewelry, antiques, local art, pottery and Native American crafts– Flagstaff has it all.
Downtown Flagstaff is a great place to find original southwestern art, with small boutiques featuring Native American and local art and jewelry. The First Friday Art Walk each month features downtown galleries and other businesses displaying art and providing food or drinks. The wide variety of art and jewelry is a wonderful representation of the heritage and culture of Northern Arizona and the southern end of the Colorado Plateau.
For more practical needs, Flagstaff features several strip malls and shopping centers throughout town. Route 66, South Milton Road, Cedar Street, Woodlands Village Boulevard and many other locations offer excellent shopping and dining opportunities. Flagstaff has a diverse combination of locally owned and operated stores as well as national chains.
On the east side of town, Flagstaff Mall and The Marketplace offer a stores such as Sears, Dillards, JCPenney, Home Depot, Best Buy, Marshalls, Old Navy and World Market. The Flagstaff Auto Park is nearby as well.
For a list of Chamber retailers, please go into our Membership Directory and enter the type of product you are looking for under category.