Chamber Hosts Governor Hobbs, Business Leader Roundtable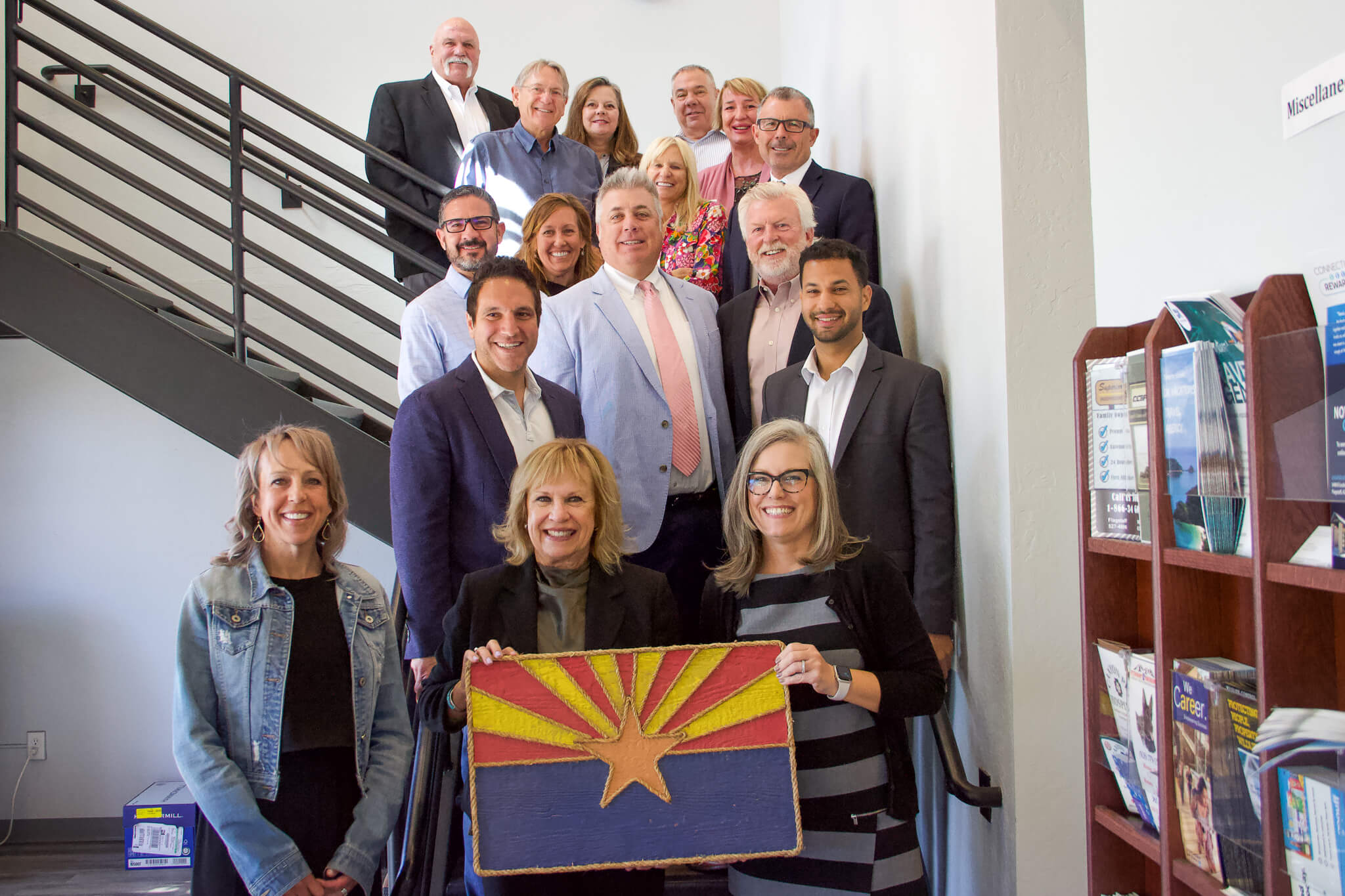 Flagstaff, AZ – On Friday, June 23 at 8:00am, Arizona Governor Katie Hobbs and her staff met with local business leaders at the Greater Flagstaff Chamber of Commerce for the first of nine meetings while in town.  Greater Flagstaff Chamber President and CEO Julie Pastrick presided over a discussion of key challenges faced by the local business community.  Organizations represented at the table included: ALLO Fiber Company, APS, Arizona Snowbowl, Foothills Bank, Katalyst Space Technology, Nestlé Purina PetCare Company, Pinnacle Building Services, Sobo Associates LLC, Toasted Owl Restaurants, Warner's Nursery and Landscape Co. and W. L. Gore & Associates.
Across the board the foremost issue expressed by the group was the challenge of maintaining workforce due to housing shortages and the resultant high cost of living associated with Flagstaff.  J. R. Murray Chief Development Officer for Arizona Snowbowl spoke about a common issue facing other ski areas that are that are commonly associated with towns that carry a similar high cost of living.  Murray spoke to strategies leveraged by other ski areas whereby land is leased from the United States Forest Service to develop independent workforce housing- reducing strain on local housing resources and providing employees with affordable options while reducing commuter traffic.
Cecily Maniaci, Chamber Board of Director and owner of Toasted Owl Restaurants echoed the challenges of maintaining staff who can't afford to live in Flagstaff despite the recently raised minimum wage of $16.80 per hour, a sentiment also emphasized by Jeff Hughes of W. L. Gore & Associates, who's higher-wage employees share the same challenge. Each year The Greater Flagstaff Chamber of Commerce partners with The Center for Regional Economic Competitiveness to compile data for the Cost of Living Index.  2nd quarter data places Flagstaff at 114.1% of the national average for composite costs, with housing costs in Flagstaff at 138.4% of the national average.
Other issues presented included broadband infrastructure.  Local business owner Fady Ebeid, who recently acquired Pinnacle Building Services spoke to the challenge of communicating with employees outside of the limited range of current wireless range.  Chamber Board Director Mike Horton  of ALLO Fiber Company expressed the need for increased state and federal support in their effort to expand broadband networks throughout northern Arizona. Governor Hobbs responded by highlighting her administration's recent allocation of federal dollars to assist with these expansions.
A key topic discussed was the challenge of addressing change as Flagstaff continues to draw new residents seeking the attractions of the area.  Guillermo Cortes of the Chamber board of directors and  engineering firm Shephard–Wesnitzer Inc.  gave cogent remarks regarding the need to plan for and direct growth rather than letting growth happen haphazardly.
The Greater Flagstaff Chamber of Commerce was honored to sit down with Governor Hobbs, establishing a relationship with state leadership while serving as convener to local business interests.  The Chamber looks forward to collaborative efforts that will address the challenges faced by our community and advocating on behalf of businesses and non-profits throughout northern Arizona.